Song History - Yankee Stadium

I wanted to give you some history on my song, "Yankee Stadium."

My fabulous wife Amy (a Jersey girl), remains a life-long Yankee fan with a great, emotional history of experience in Yankee Stadium from childhood to present. Her concept and the song's chorus; "everyone is beautiful in Yankee Stadium," was born from those memories and experiences. She's been asking me to write this song for a while and here it is. .

I'm a long time fan myself, especially of the mythical and mystical nature of old Yankee Stadium, which I've been fortunate to experience first hand.  This song is an homage born of respect and gratitude for all the emotional and spiritual beauty Yankee Stadium has offered to so many, for so long.  We hope all you Yankee fans out there enjoy it! -- Nils

"Yankee Stadium" written by Nils and Amy Lofgren

Nils Lofgren – vocals, guitars, keyboards

Gary Bruzzese – drums, vocals

Phoenix Boys Choir –vocals

John Ramirez – vocals

Jamison Weddle – mixing and recording engineer – Studiocat Productions – Phoenix, AZ

Bill Wolf – mastering engineer – Wolf Productions – Arlington, VA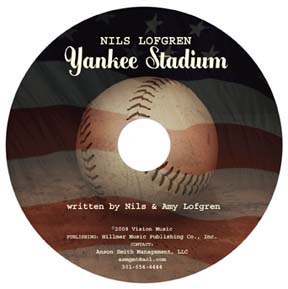 Audio Downloads:
"YANKEE STADIUM"
(mp3)
"STAR SPANGLED BANNER"(mp3)

__________________

"Yankee Stadium"( (3:05)

Sweet Amy cheers in wide-eyed wonder
from her Daddy's arms as Babe Ruth thunders
another home run out of the park
for all to see

Our hotdog vendor shouts and smiles
his peg leg from the real War
strolls these hallowed miles
we marvel at his endless stream
of funny wisecracks at the opposing team

In Yankee Stadium
in Yankee Stadium
in Yankee Stadium
everyone is beautiful
everyone is beautiful

The weary single Mom sits up straight
to her four young girls she radiates
a dignity

As DiMaggio storms the plate
a century of worship so commonplace

I squeeze my girl's hand sit side on side
the Bronx twilight and her face collide

A picture so sweet I could cry
a joy and time stand still

In Yankee Stadium
in Yankee Stadium
in Yankee Stadium
everyone is beautiful
everyone is beautiful

In Yankee Stadium

For every soul who entered here
we raise a glass we shed a tear

A beauty in every face appears
hope and love's alive tonight

In Yankee Stadium
in Yankee Stadium
in Yankee Stadium
everyone is beautiful
everyone is beautiful

(In Yankee Stadium) oh my Yankee Stadium
everyone is beautiful
everyone is beautiful

Oh my Yankee Stadium
goodbye my beautiful Yankee Stadium