Nils Blind Date Jam!
®
Digital Video Downloads
No rehearsals. No homework. No advance discussions. This is where musicians come to jam. I throw out an idea, then we go for it and see where things lead. It's reckless, raw, unique and in the moment. This is where we can trust our musical instincts and enjoy the freedom of the unknown. It's where musicians come to play.
more
About Nils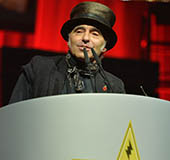 Versatile songwriter, singer and guitarist, Nils has been working professionally since age 17. He has toured with Neil Young, Ringo Starr and is currently a member of Bruce Springsteen's E Street Band. After fronting the 70's group Grin, Nils embarked on a solo career and has been a sought after session player.
read more
Updates
"Acoustic Live" audiophile vinyl and CD is available in hi res digital download formats, DSD and FLAC from Acoustic Sounds online.

Nils was profiled on AARP's "My Generation" show. Watch it online.

Grin's "Gone Crazy" and Nils' "Cry Tough" available on the Hip-O-Select label. Grin's "All Out" is on American Beat Records. Available at amazon.com.
Contact
MANAGEMENT CONSULTANT
Full Circle Entertainment Inc.
Tom Goldfogle
tom@fullcircleentertainment.net
301-879-9811 office
301-879-9190 fax

For all other inquiries:
info@nilslofgren.com


for the
Nils Lofgren List

Slideshow photos
courtesy Scott Farence